Renewable energy (Solar) training institute in Nigeria
Wavetra Energy Academy is a leading training institute for anyone interested in Renewable energy and solar energy in Nigeria. We offer standard hands-on and theoretical training designed to bring beginners to a professional level in solar Photovoltaics principles, design and installation.
We have assembled the best solar technology experts from Nigeria and the manufacturers from Asia to teach you how to install complete solar and inverter system and also how to diagnose and fix errors.
 Our solar installation training courses are designed to guide you as you prepare for a job in solar energy — from the theory and science behind photovoltaics through the advanced skills needed to safely and effectively design, size and install a full solar PV array. Boost your CV with this skill. Employers pay more attention to your skills than all your degrees put together.
WON'T YOU JOIN THE CLEAN ENERGY WORKFORCE?
There is a huge opportunity in Renewable energy which is the clear energy of now and the future. At Wavetra Energy Academy, we have designed our courses to launch and guide you to a great career in solar energy. Click on the video below to watch a one minute compilation of our various solar and inverter system trainings in Nigeria.
Why solar training?
You definitely need to be trained in order to become a renewable energy consultant and solar installer. As a solar installer, you will be able to determine the design of the solar panel array. You will also be able to size the system and even install. There is a huge opportunity in renewable energy and NOW is just the right time to get your hands into it. Wavetra Energy Academy course is designed to launch anyone with science background in O'Level into solar power generation. It is especially highly recommended to anyone in construction, roofing, etc. There are numerous opportunities for anyone to succeed in the field of solar energy.
Prerequisite:
We have developed a dedicated online platform solely for Wavetra Energy Academy. The prerequisite is an O'Level certificate and an interest in Renewable Energy LTD.
Why the online platform? Basically solar training courses around the world lasts for about 5 days. But we have found out that 5 days is really not enough to combine both the practical sessions and the theoretical sessions. Also not all the students have the right background and training to take up a solar installation course. Most of our students are electrical/electronics engineers but we also have other students that do not have a science background and yet they want to venture into renewable energy business. Our solution is a comprehensive online tutorial course on off-grid solar installation training and introductory renewable energy course. We have built this system at a new dedicated Wavetra Platform: www.stoplearn.com
So our students are asked to quickly take this course on solar installation before joining us in the real life training program. So the 5 days training program at our office is a more of practical work.
What you will get:
We share FREE data CDs
to participants of Wavetra Energy Academy. The content of this disk is worth over $1,000 but it's free and part of what you get from Wavetra Energy Academy to completely equip you in your new career.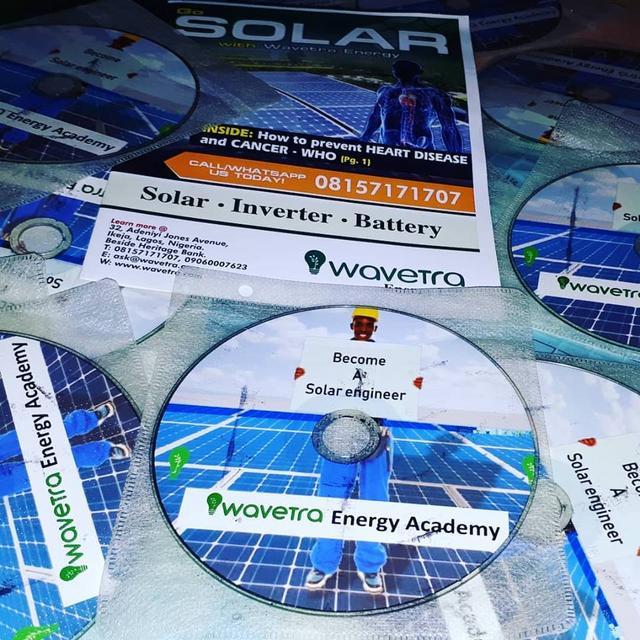 Here are the other things you get from us during the training:
FREE daily refreshment till the end of the training
FREE INFORMATION PACKED DATA CD ON RENEWABLE ENERGY AND ADVANCED SOLAR INSTALLATION
FREE WAVETRA BRANDED T-SHIRTS

FREE WRITING MATERIALS AND PEN

FREE BEAUTIFUL FOLDER.

FREE TEMPLATES ON PREPARING A SOLAR QUOTATION, PROPOSAL

FREE DIRECT CONTACTS OF WHOLESALERS, MANUFACTURERS AND IMPORTERS OF SOLAR SYSTEM COMPONENTS.

FREE COURSE CATALOGUE IN PRINT AND PROMOTIONAL MATERIALS FOR YOUR NEW BUSINESS IN SOLAR

FREE REGISTRATION INTO OUR ALUMNI GROUP FOR SUPPORT
Please note that we reserve the rights to alter any of the list above.
We hope that at the end of this course, you the participant will learn how to install solar panels, Inverters, batteries and all components for your clients. We want to launch you into a powerful career in renewable energy and because of that, we are giving out FREE handouts/materials during the training and we shall take you through the principles of solar technology with great EMPHASIS on the practical/hands-on training on how to install a complete solar system. We shall teach you the BUSINESS side of this amazing technology so that you CAN MAKE AS MUCH MONEY you will with this new technology. At the end of the course, you would be able to do the following:
SOLAR:
1. Introduction to Renewable Energy
2. Understand and identify the various types of Solar Panels: Polycrystalline, Amorphous & Monocrystalline Technologies.
3. Sizing of solar panels
4. Parallel, series and parallel-series connection of panels
5. Understanding, sizing and installation of solar charge controllers
 


How to install Inverter and deep cycle batteries
6. Roof mounting techniques and accessories
7. Energy Efficiency, Energy Auditing, System design

INVERTER/BATTERY SYSTEM:

8. Understand Inverter Load & Power Estimations & Calculations
9. Learn about Battery technology and types of batteries
10. Understand Types of Inverter and specification
11. Basic semiconductor devices
12. Introduction to electronic circuit design



SOFTWARE:

13. Google sketchup application
14. Digital Marketing Introduction

BUSINESS:

15. How to write Solar Business proposal

16. How to set up your solar business with little or NO capital.

17. Job opportunities.

Course Outline:

Please find a comprehensive list of the course outline and what you will learn in our course outline. CLick to view or download the pdf.

 Please view the full course outline here.

 
HOW TO REGISTER:
Registration is simple, easy and fast. You can register and pay online buy clicking on the button below. Choose your preferred package.
Alternatively you can pay in directly to our bank account:
Wavetra Energy LTD
1015075375
Zenith Bank.
What happens after registration?
After the registration, screenshot your debit alert and forward details by SMS or WhatsApp to 08157171707. Our team will register you. We will look forward to seeing you on the training dates.
Pictures of some of our past graduates of Wavetra Energy Academy:
Please view all pictures here.
Feel free to select your preferred package to register!