From what was originally a virtual platform for solar and vocational studies, stoplearn.com has metamorphosed into the most sought after online secondary school & Lesson note learning app and Teacher's preferred free secondary school lesson notes vault.
Stoplearn.com was established in 2019 making it perhaps the first online platform for secondary school students. it was not until virtual learning picked up at the wake of COVID 19 in 2020 that we decided to build stoplearn.com database to feature all Secondary school lesson notes for all subjects. We have Lesson notes and video lessons for all secondary school subjects in JSS1 JSS2 JSS3 SS1 SS2 SS3
Free Lesson Notes for Junior Secondary school available:
Mathematics
English Language
A Nigerian Language (Yoruba)
Basic Science
Social Studies
Fine Arts/Creative Art
Agricultural Science
Civic Education
Christian Religion Studies
Physical and Health Education
Business Studies
French
Computer Studies
Home Economics
Music
Basic Technology
Free Lesson Notes for Senior Secondary school available:
Below are the secondary school subjects and StopLearn has up to 95% of the lesson notes of the subjects commonly offered. Find all the subjects belwo:
Get FREE Solar quotation sent straight to your email!
:
You want to know the cost of going solar? Our team at Wavetra Energy can help you go solar. Click here to get a free quote.
please confirm the price of item before making payment as the price can change at any time. Call or contact us for up to date pricing of our products
Agricultural Science
Air Conditioning And Refrigeration
Animal Husbandary
Arabic
Auto body repair And Spray painting
Auto Electrical Works
Auto Mechanical Works
Auto Mechanics
Automobile Parts Merchandising
Autopart Merchandizing
Basic Electricity
Basic Electronics
Biology
Block laying, Brick laying & Concrete Works
Book Keeping
Building Construction
Carpentary And Joinery
Catering and Craft Practice
Chemistry
Christian Religious Studies
Civic Education (Senior)
Clothing & Textiles
Commerce
Computer & IT
Cosmetology
Data Processing
Dyeing And Bleaching
Economics
Electrical Installation And Maintenance Work
English Language
Financial Accounting
Fisheries
Foods & Nutrition
French Language
Furniture Making
Further Mathematics
Garment Making
General Mathematics
Geography
Government
GSM Maintenance And Repairs
Health Education
History
Home Management
Igbo Language
Insurance
Islamic Studies
Keyboarding
Leather Goods
Literature-in-English
Machine Woodworking
Marketing
Metal Work
Mining
Music
Office Practice
Painting And Decoration
Photography
Physical Education
Physics
Plumbing And Pipe Fitting
Printing Craft Practice
Radio Television and Electrical Work
Radio Television And Repairs
Salesmanship
Store Keeping
Store Management
Technical Drawings
Textile trade
Tie And Dye Craft
Tourism
Upholstery
Visual Art
Welding & Fabrication
Wood-Work
Yoruba Language
Free Online Secondary school & Lesson note learning App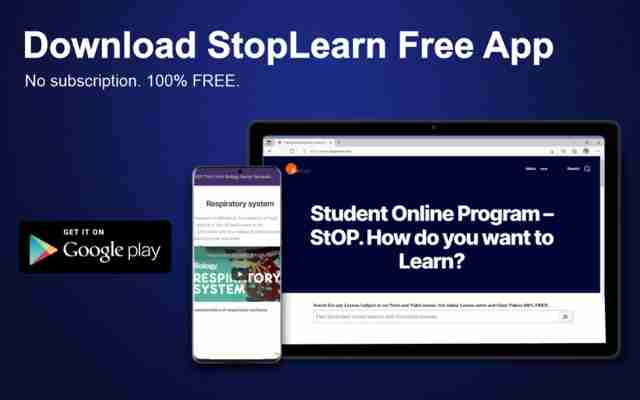 You can download the Stoplearn free online secondary school app for Android here.
The free online secondary school app has a 5 star review all through. Some of the reviews says:
"An exceptional app, first experience was in chrome. Simple, easy to comprehend notes, yet with depth and its accessible. Where others summarize, you capture essence and relevance. Thank you so much, you made my work as a Homeschooler effective, professional and easy. May the Lord honour you"
"It makes Physics learning easy and less voluminous"
"The app made my work very very easy for this term. I just have to edit to my format or style on Ms Word."
Let's get started!
You can either download the app or go to www.stoplearn.com to use all materials for free!
Get FREE Solar quotation sent straight to your email!
:
You want to know the cost of going solar? Our team at Wavetra Energy can help you go solar. Click here to get a free quote.
please confirm the price of item before making payment as the price can change at any time. Call or contact us for up to date pricing of our products