Wavetra Energy LTD. (RC 1404420) is a leading player in Nigeria's solar energy system market and renewable energy consultancy. We simply provide a steady power supply to your home and business using clean energy especially from the sun. In other words, we help home and business owners replace electricity they would otherwise purchase from the utility company or diesel generator with clean, and free energy produced by a solar system completely installed by Wavetra Energy.
Wavetra Energy LTD featured on TVC News:
At Wavetra Energy LTD., we provide turnkey Engineering, Procurement and Construction (EPC) and Operational & Maintenance (O&M) services for clients looking for solar PV and battery storage solutions in Nigeria and sub-Saharan Africa. We are deeply passionate about clean source of generating electrical energy in Nigeria and we position our self as a topmost player in the nation's go green private company campaign.
We have through innovative value engineering lowered our cost of energy , operational performance monitoring and efficient financial strategy.
Start your day with this beautiful Wavetra 325W super efficient solar panel. Like/Share if you love #cleanenergy #PowerNigeria #solarNigeria #inverternigeria #cleanerLagos #Wavetra #solar
The Organization
Wavetra Energy is founded on the idea that maintaining satisfied customers is essential to the health of the organization. With this in mind, Wavetra Energy team continuously work hard to ensure that all of our customer's expectations are exceeded in all transactions. To maintain a close relationships with our customers, Wavetra Energy consistently deliver high quality products and effectively use both digital and traditional means to ensure a 24/7 access to customer feedback.
Objectives
To make Wavetra Energy the number one destination for the purchase and installation of solar/Inverter system components and automotive/Industrial batteries and lubricants.
To provide and maintain excellent customer service.
To deliver and install only high quality products - We go a long way to achieve this. Most of our products meets at least EU standards.
Mission
Availability of electricity puts smile and happiness on people's faces. It is our mission at Wavetra Energy to make this excitement stable, clean and affordable to all.

Success will ultimately be measured by our customers choosing us because of their belief in our ability to meet or exceed their expectations of price, service, and quality.
WAVETRA ENERGY CORPORATE SOCIAL RESPONSIBILITY POLICY:
We can simply assume that every renewable energy company should be responsible and encourage best sustainability practices. At Wavetra Energy, we go extra mile at this and we have outlined our Social responsibility policy below for a deeper understanding of our ethics and what we stand for.
Please click here to read our sustainability and social responsibility policy.
Are you a business owner?
Apart from achieving an uninterruptible power supply, Wavetra Energy helps SMEs and blue-chip clients turn their sites into 'sustainable energy centers' through renewable energy from the sun.
We have partnered with such big brands as Wartsila, Ocean Marine services, LionRock Power, etc.
We are a registered corporate member of Council For Renewable Energy Nigeria.
Our automotive section deal in premium automotive batteries for passenger cars, heavy and light duty trucks, utility vehicles, motorcycles, golf carts and boats.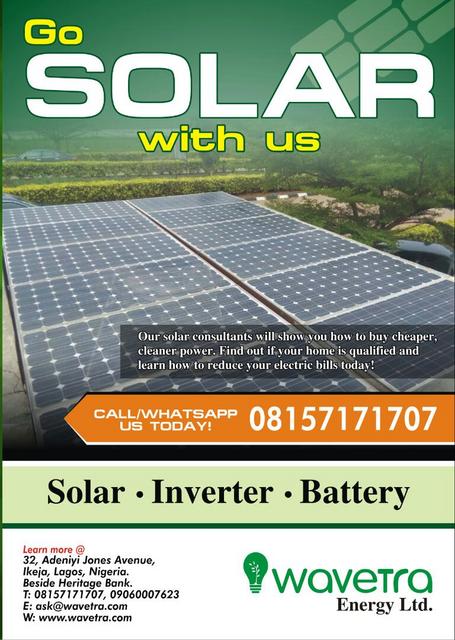 Get started!
I'd put my money on the sun and solar energy. What a source of power! I hope we don't have to wait until oil and coal run out before we tackle that. - Thomas Edison
We have developed a lot of tools here to ensure your seamless switch to solar energy. Wavetra Energy is notoriously known for our highly efficient lean and execution expertise. We have developed proprietary systems that significantly reduce the time it takes to design, finance, commission, operate and maintain projects. Choose any of our tools below to get started!